A big thank you to our essential heroes!
Though the past few months have been challenging given the circumstances we are all experiencing, this exceptional situation has highlighted the essential role played by men and women who work in the trucking industry. Indeed, to make sure that there is no shortage of products on store shelves, that healthcare workers do not run out of masks, medication and instruments to care for patients and in order for everyone to continue to move forward and live as normally as possible, sooner or later, all goods must be transported by truck safely, reliably and efficiently. This requires a team of motivated professionals to think, organize, plan, check, load and store, day after day. Over the past few months, these everyday heroes have shown everyone their crucial role in these difficult times.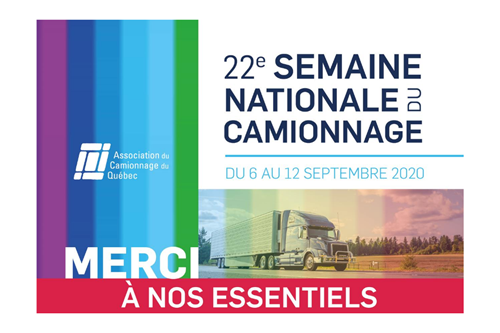 THANK YOU, essential workers, who have chosen to work alongside the great Guilbault family. In this 22nd National Trucking Week, the Guilbault management wishes to express its appreciation for your work. Regardless of your role within our company, drivers or forklift operators, mechanics or administrative employees, your professionalism, courage and passion not only ensure that our customers' goods reach their final destination, but also promote Guilbault and all its divisions remarkably. The success of our company rests heavily on your shoulders. You are very important and valuable to us all at Guilbault.
THANK YOU for choosing to be part of our team!
Sincerely, 
Eric Gignac, President